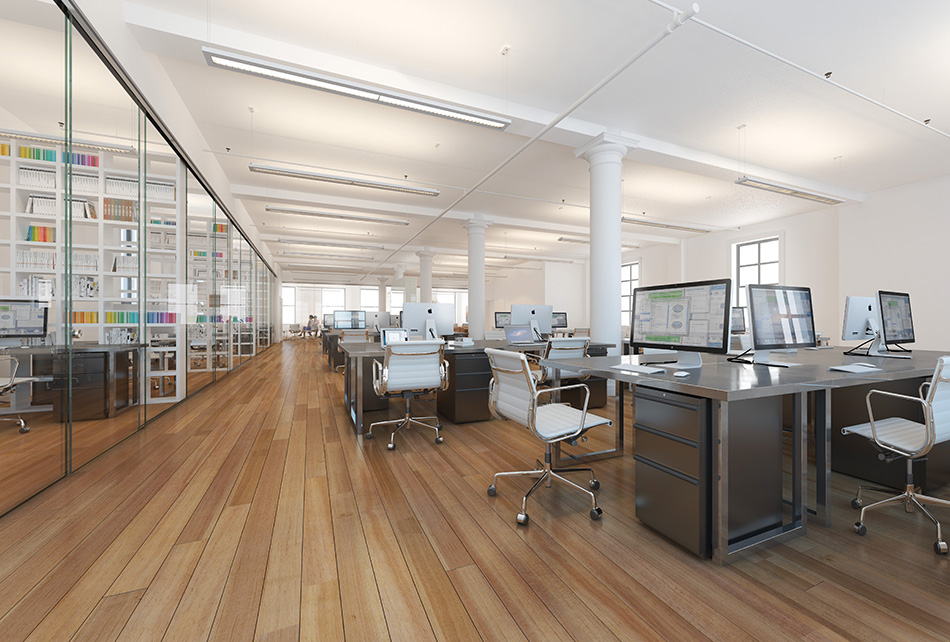 Finding the right office space for your business can be tricky. If you're not familiar with the process, you're probably not sure what you should be looking for. Not every office space is a single office in a building with a reception area and a few individual rooms. Offices vary, so it's important to know the different types of offices before doing any searching.
Types of Office Space:

1) Tech/Creative Office Space – This type of office space is becoming more and more popular because companies are increasingly looking for offices that have a lot of open space. Unlike traditional offices, these types of offices generally have less individual rooms. Less square footage is allocated per person, but there is typically more room for lounge or meeting areas, which helps to foster collaboration. Wood or polished concrete flooring and raised ceilings without any tedious ceiling tiles and monotonous light fixtures are key aspects of creative space. While most companies seeking this brand of office are within the TAMI sector (tech, advertising, media, and information), traditional companies are also moving towards these types of offices.

2) Traditional Offices – Many professional services such as law firms and accounting businesses work in traditional offices. These types of offices provide businesses with a more corporate feel. These offices will typically include a reception area and conference room, with numerous individual offices. These offices will usually require a multi-year lease, which in New York is anywhere from 3 to 5 years.

3) Co-Working Offices – A newer trend amongst companies in New York City is to lease a co-working office space. When leasing this type of office, you'll be working in an office with another company. Since companies that typically decide to go with a co-working space are smaller or a startup, co-working offers very flexible terms. These offices also usually include a reception area and shared conference rooms, but is almost always in a wide open space. Terms can vary ranging from desk space for a day up to 1 year terms. In addition to the flexible lease terms and open/collaborative look and feel, co-working offers a unique social aspect that no other office space solution can provide. The facilities often host meet-ups, events, and conceptually encourage social interaction between its tenants in the form of organized lunches and happy hours. The draw backs include limited growth opportunity and privacy. It's often somewhat loud and reserving a conference or meeting area can be difficult.