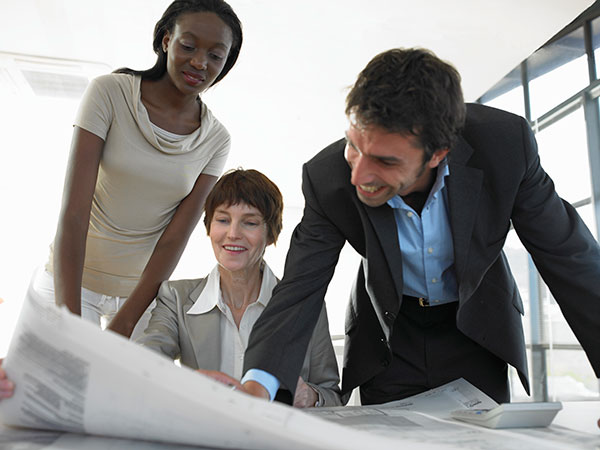 Many different factors can affect the design of your new Flatiron District Office Space. From employee engagement to the history of the District, you should consider more than just what color of paint to choose! Workspaces need to be flexible promote movement and prevent isolation. Here are 5 points to consider when designing your Flatiron District office space.
The Power of the Mixed Space
Wide-open office spaces are often a great idea, but they can also be distracting and in some situations. Maximizing creativity and collaboration requires the ability to retreat as well as connect with co-workers.
Consider a mixed space that works to keep employees happy, engaged, and organized, and that supports your employees throughout their day:
Open and enclosed spaces for work or a break
Multilevel offices (conferences/break rooms downstairs and offices upstairs)
Lounges and soft seating areas
Conference rooms and break rooms (rooms with specific purposes)
Space to Move
Our bodies are biologically engineered to be in motion. A workspace that allows employees to move around during the day increases employee wellness and creates a more productive workspace.
This means you'll want to offer a variety of seating types as well as staying away from the "cubical" mentality of the 1990s. Avoid crowding in desks and other furniture, and make sure conference spaces focus on comfort and functionality. Today's workplace is more in tune with what employees and clients need rather than a desire to impress with formality.
Just remember that no one will be happy in a space where they can't move for 8 hours a day. Provide elbow room, and ensure that your space is big enough to support company growth too!
Embrace a Variety of Features
Since each person on your team is a unique individual, you're highly likely to have many different preferences for how they work best. Some might work best with music on, while others need a door to shut so they can have quiet.
The modern workplace should be a variety of "layers" all equipped with technology to support different work styles. This enhances flexibility for everyone. You can then select some spaces that can be designated as 'quiet zones' or 'tech-free zones,' while others can be set aside for small group conversations or mini brainstorming sessions.
Let in the Light
The great outdoors is good for our health. The days of mini blinds over windows to shield workers from the outside world are over. If you have natural light in your office space, use it! Not only will large windows help the space feel more expansive, sunlight will also boost productivity and inspiration.
Consider setting comfortable chairs and small tables by windows in your space. Not only will this create a great place to enjoy a cup of coffee, it will also serve as a spot someone could take a lap top and people watch while they write. Feeling connected to the outside world is often a key element offices miss out on, so use this to your advantage!
Color and Texture
We are naturally drawn to nature when they we decorate personal spaces. The simple fact is that despite our technology driven society, we can't erase our basic need to surround ourselves with things that are pleasing to our senses.
Materials in the workplace can help balance the need for quiet versus communal spaces, as well as stimulate creativity.
Consider using:
Earthy, metallic mineral like tones and colors you can find in nature
Warm and cool colors together
Patterns found in nature (like leaves or woodgrain)
Natural fibers such as wool, linen or cotton
Natural materials like wood, metal, stone
As for color, these can be a productivity booster or buster as well as a means of evoking energy or calm. Beyond using a brand's colors to identify the workspace, be aware of the message these tones can convey:
Earth tones = warmth, comfort, grounded
Spice tones = warm, bold, risk taker
Warm neutrals = subtle, sophisticated, respectful
Cool neutrals = technical, modern, fresh
Yellows = bright, cheerful, optimistic, energy
Metallic tones = rich, elegant, sometimes also seen as male dominate
Reds and oranges = active, lively, energetic, bold, brave
Greens = fresh, natural, balanced, clean
Blues and purples = tranquil, calm, controlled
A well-designed office space encourages energy and creativity. Keep these points in mind when choosing and decorating your new Flatiron District offices, and your employees – and your bottom line – will thank you.