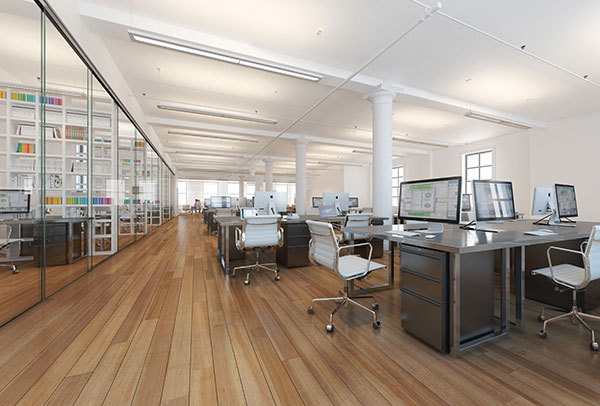 Finding and leasing professional office space that both meets all your business needs is often stressful, but it does not have to be! If you're empowered with the right information and tools, it's much easier to find the right space. That's why we've put together our top six tips for finding the right office space near Madison Square:
1. Know how much space you need from the beginning.
If you are still confused when it comes to just how much space you need, a good initial estimate will include around 1,000 square feet for every four to six employees. This gives you plenty of room for everyone to have a workspace and not feel cluttered.
2. Always be considerate of your employees.
Commuting
One thing many overlook is the distance from the office to where your employees live. In some Manhattan neighborhoods, it can take 30 minutes to drive a couple blocks. Map where your key employees live and seek an office space that's convenient for each to travel to daily. By making it easy for everyone on your team to get to the office you'll retain more talent.
An easy commute doesn't have to mean geographically close, however. Remember that the Madison Square area makes taking a train, bus, or bicycle very easy. Talk to your staff and learn the most common means of commuting for your customers and employees.
What amenities are nearby?
Choosing your neighborhood carefully can be very important. Are there places nearby where staff can buy lunch? What if you want to take clients for drinks or a meal? Find an office close to a bank, pharmacy, a good place to eat and shopping area and your staff will thank you forever!
The Madison Square area has many resources nearby. Specialty shops and many popular restaurants contribute to the energy of the neighborhood. When choosing a building, ask yourself, what's available next door? What's right in the same building?
3. Always work with an agent you trust and would recommend.
Work with a real estate broker who has a record of success. A good broker can help you all the way through from initial planning to finalizing a lease and coordinating the relocation. Save time and money through the experience and connections of a professional.
If a broker believes a property is too expensive for you, or includes more space than you need, they will help you find a better fit elsewhere. A broker can also provide you with additional information you may not be able to learn on your own – the seller's motivation, previous lease data, and anything else they feel is relevant to you that their experience and connections provide.
4. Learn what you can about the building.
Is there a manned reception desk?
What is the first impression a client or other visitor has of your company? Believe it or not, it may not be anything your employees do. By the time they reach your offices, they've already formed an impression based on the building. How easy was it for them to navigate? Did anyone greet them at the door? Were there clear directions?
Does it have out-of-hours access?
Not all buildings have access 24/7. If you or your employees will need this, you need to plan for it upfront. Ask about off-hours access when looking at a potential building.
How is the building maintained?
Does the company that manages the building do a good job? Look around public spaces to see how much care goes into regular maintenance.
5. Learn what you can about the landlord.
Talk to other tenants in the building and tell them you're considering renting space and you want some feedback on the landlord. Most business owners will give you feedback and some might even give you some best practices like whether it's easier to get ahold of him or her by text than a phone call.
6. Learn what you can about the space.
Is there enough room?
Check the amount of floor space to confirm there is enough room for everyone's desks as well as other office furniture. You may want to request help from an office designer to help determine this. You can also measure things out yourself with the help of employees. Even if you have an open office space, you still need to have enough room to move about the space easily.
Know if you can decorate?
How much freedom will you have to make the space your own? Are there any restrictions? If you can decorate will you have to return the space to neutral decor before you leave? These are all questions you need to know the answer too. Branding your office can make a big difference both to the work environment and to the impression you make on visitors.
What are the acoustics like?
Did you know a noisy office is one of the most common complaints from staff? Check the general acoustics of the internal space as well as what's happening outside during high traffic times.
Does the layout work for your business?
You really want to look at the layout. You need to know how the shape of the space will work for you and your employees. How many floors is it? Are there separate offices and conference rooms? Can you easily divide the area if need be? Is it possible to do simple modifications on the space? Take measurements and make sure you know that everything you must have can be in that space.
Can you expand?
It's an obvious question, but if you're hoping for growth over the next five years, then make sure that you have room to grow. You don't want to find yourself locked into a lease with no space to put your newly hired and very needed new employees.
We hope these tips help you in choosing the right office space near Madison Square. Contact the team at Madison Square to start looking today.