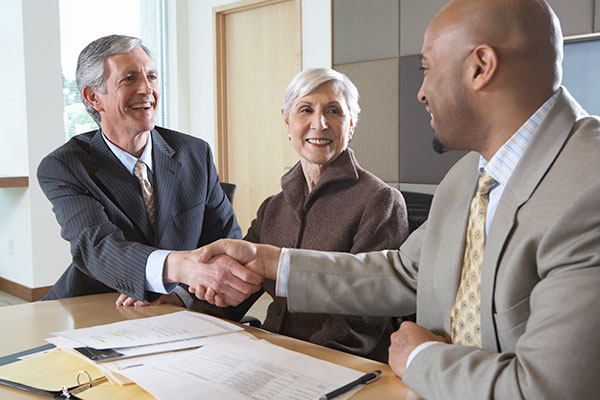 You've settled on the NoMad District as a great neighborhood for your new office space. What's next? Choosing just the right building for your business takes careful consideration. There are a lot of details to remember, so it helps to have questions prepared when comparing office spaces.
Following are ten key questions to ask when leasing office space in the NoMad District:
1. How Much Space Does My Business Need?
Before choosing your new office space, determine the ideal size for your business. An oversized, underutilized office can be an unnecessary financial burden, but too small a space can lead to overcrowding and lowered performance. The answer to this question will be unique to your business. What equipment, conference areas and work space do you need room for?
Keep in mind the difference between rentable and usable square feet, and get a count of current employees. Estimate the size of your business by the end of the lease – how many more employees will potentially be hired?
If you need help turning employee numbers into estimates of square footage, use an online office space calculator. Keep this target size in mind when comparing lease options around the NoMad District.
2. How Important Is an Office Space with Room to Grow?
Plan carefully for the future. Room to grow can be a very good thing, but not if it is included without thought. How much do you expect to grow? In what ways will you grow?
What space will be needed, and how much will the space cost if you don't grow as much as planned? How could you handle growth that surpasses what was planned? Consider both best and worst case scenarios when estimating the space your business needs.
3. NoMad Neighbors: Who's on the First Floor?
NoMad is a great district to locate your business. Excitement and innovation in a central location have led to continued growth. But now to choose a building. Who will be your closest neighbors? Who do you want to share the building with?
Some office buildings reserve the first floor for restaurants or retail space. This can be a great advantage. Imagine going out to a lunch meeting on a rainy day, without having to leave the building. Or consider stopping for a drink, or doing a little shopping before heading home at the end of the day.
4. Will the Office Space Support My Brand?
The NoMad District offers an active, creative neighborhood to base your business in. Get the most out of this energy by choosing a building that reflects it. Does the building you are considering provide the atmosphere you are looking for? While many companies hire interior designers, finding an office space that already meets the needs of your company's culture will save time and money.
Tailoring the atmosphere of your office space to your business's branding can be a subtle yet effective way of forwarding your business's message. Don't have a branding plan yet? Get started with our Office Branding Tips.
Design Elements to Consider
What impression does the main lobby make?
Will you have open or individual offices?
How much light is there, and what style is the lighting?
If the office comes furnished, what is the furniture like? What impression will it give visitors, and how comfortable will it make employees?
If the office is not furnished, consider the furniture you plan to use. How will it fit in the space?
What colors or patterns are on the walls? Is there wallpaper? Paint?
What colors or patterns are on the floors? Is there carpeting? Hardwood? Or just a cement slab?
5. Does the Office Space Support My Technology Needs?
The NoMad District is popular with tech companies. Make sure that the commercial property you decide on has the networking options that your company needs. While most NoMad office spaces are prepared, you never want to find out after signing the lease that your company's full technologic needs are beyond the building's capability.
6. What is Included in My Lease?
Commercial leases vary. Before closing, have a full understanding of what is included or missing from the lease. Read all the terms and legalities, and know what it means in various contingencies. What will you be responsible for, and what will the landlord be responsible for? Remember to consider best and worst case scenarios.
7. Are There Hidden Costs I'm Not Considering?
A good commercial lease should clearly define the responsibilities of tenant and landlord, giving specific terms. The lease should be transparent. Unfortunately, there are times when not every cost is covered. Be aware of potential hidden costs to prepare for. Some possibilities are:
Common Area Maintenance (CAM) Fees
Utilities (phone & internet, electric, water, trash, etc.)
Liability Insurance
Property Taxes
8. Is the Property Owner Trustworthy?
You want a property owner with credibility within the commercial real estate industry. A trustworthy property owner will offer a transparent lease and respond to needs that are their responsibility in a timely manner.
9. What are the Benefits & Amenities of Each Building?
How comfortable is the building? Is the view one you want to see every day? Will you feel good about arriving for work?
After reviewing what is and isn't included in the lease and who your neighbors will be, consider the day-to-day. The benefit of one potential office space over another may be as simple as having room for multiple people in the break room, or air conditioning vents not aimed directly at someone's seat.
10. Should I Consult a Broker?
Real estate brokers have your best interest in mind. If you're not sure what potential locations will suit your business or you need advice on how you should handle a certain aspect of the real estate process, consulting a broker will solve those issues.
A broker will work with you during the leasing process to make sure the agreement includes the right information, and will help secure you the best possible deal.
The Kaufman Organization, founded in 1909, is one of the most reputable companies in commercial real estate. Contact one of our brokers today to learn more.